FABulous Farmers is a European project designed to support farmers in the transition to more agro-ecological practices on their farms.
Project Aim
Reduce reliance on external inputs, like chemical fertilisers and pesticides.
Encourage the use of methods and interventions that increase the farm's Functional AgroBiodiversity (FAB).
These ae targeted measures of biodiversity in and around the field to improve pollination, pest management, soil and water quality on the farmland.
Partners
12 project partners with their own expertise working in 5 countries (Belgium, Netherlands, Luxemborg, France and UK). UK Partners include: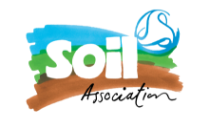 FCT will provide support for farmers interested in the FAB practices by supporting demonstration site activity. FCT will use the established communication network to deliver wider practical understanding of the potential Fab practices, with the information from the toolkit providing evidence on the benefits of the FAB practices.
FAB Practices
Semi-natural landscape elements
Reduction in the use of plant protection measures
Field margin management
Hedgerow management
Agroforestry
Modify manure quality
Organic matter input
Cover crops
Mixed crops and crop rotations
Non-inversion tillage
Farmers may want to implement FAB Measures for a number of reasons:
Reduction of inputs, predominantly nitrogen, largely due to cost, risks to water courses or associated with environmental support payments, including organic regulation.
Improving soil structure, fertility, ability to resist drought conditions and high rain fall
Diversify business, cropping structure to make business more resilient
Environmental Stewardship support payments
Improve public perception and strengthen position in the market as delivering public goods through biodiversity habitat provision.
Events
Networking sessions will be organized in which the farmers can exchange ideas and experiences.
Demonstration fields have been set up across north east Europe to show the effects of particular FAB-measures.
In the UK the project will focus on three pilot regions: South West of England, Pembrokeshire and East of England.
In each area network sessions, kitchen table talks and demonstration events will be hosted.
The learning networks in the South West region have been focused around the two measure herbal leys and agroforestry.
FCT will be hosting workshops and working with farmers to discuss the FAB measures. Future events will be published on FCT website.
View Current Events