Innovative Farmers is a not for profit network giving farmers research support and funding on their own terms. Through the network, groups of farmers can work directly with a researcher to design hands-on, practical on-farm trials known as 'field labs'. The programme is managed by the Soil Association.
Within the Farm NetZero project, three farmer-led field labs will be established across Cornwall and farmers based in Restormel, Caradon and North Cornwall are invited to contact us to register their interest or submit ideas on topics they'd like to research.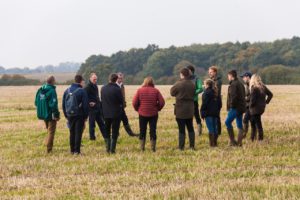 Field Lab #1: Optimised compost management for productivity and soil health
The first Field Lab in this project is exploring how compost quality can be influenced by a wide range of variables during the production process.
Click here to view full details about this Field Lab.
The farmer-led research will assess how compostable materials, compost management and temperature levels affect the nutrient availability, pH, and levels of weeds and disease risk.
Growers will trial a range of compost management techniques including turning according to temperature rather than on a timed schedule, and adding biochar, bokashi, and bespoke microbial concoctions. All compost treatments will be replicated to deliver rigorous results.
More information about Field Labs
Innovative Farmers work with farmers across all farming types, both conventional and organic. Farmers are matched with other interested farmers, a coordinator and researcher to design and carry out on-farm trials around practices associated with an increase in soil organic carbon. They will be supported to analyse the findings to inform their farming decisions and will have the option of receiving training to improve their data collection and research skills. The results of field labs and farmer stories will be shared openly for knowledge exchange across the network.
To date, Innovative Farmers have helped to launch over 110 field labs and awarded over £400k in small grants. Find out more about current and past field labs at www.innovativefarmers.org or contact [email protected] to register your interest in joining a field lab.
Innovative Farmers is part of the Duchy Future Farming Programme, funded by the Prince of Wales's Charitable Fund through the sales of Waitrose Duchy Organic products.
Farm Net Zero
A community of farmers in Cornwall taking action to address climate change and protect soil health. Showcasing innovation, engaging the public and providing robust science through soil testing and footprinting: