About the Farm
Westmill farm is situated at Watchfield, near Swindon SN6 8TH.
It is owned by Jane Twine (who lives in South Africa) and Adam Twine; Adam has been farming the land for the last 40 years, alongside a larger National Trust farm that he surrendered the tenancy on in 2021. For the last year Adam has farmed it on his own with occasional help from neighbours and contractors.
The farm is approximately 480 acres, comprising around 145 organic arable/ley rotation, around 110 acres conventional arable, 70 acres of organic permanent pasture, 60 acres managed exclusively for environmental benefits, 30 acres let for renewable energy generation and 15 acres let to organic horticultural growers.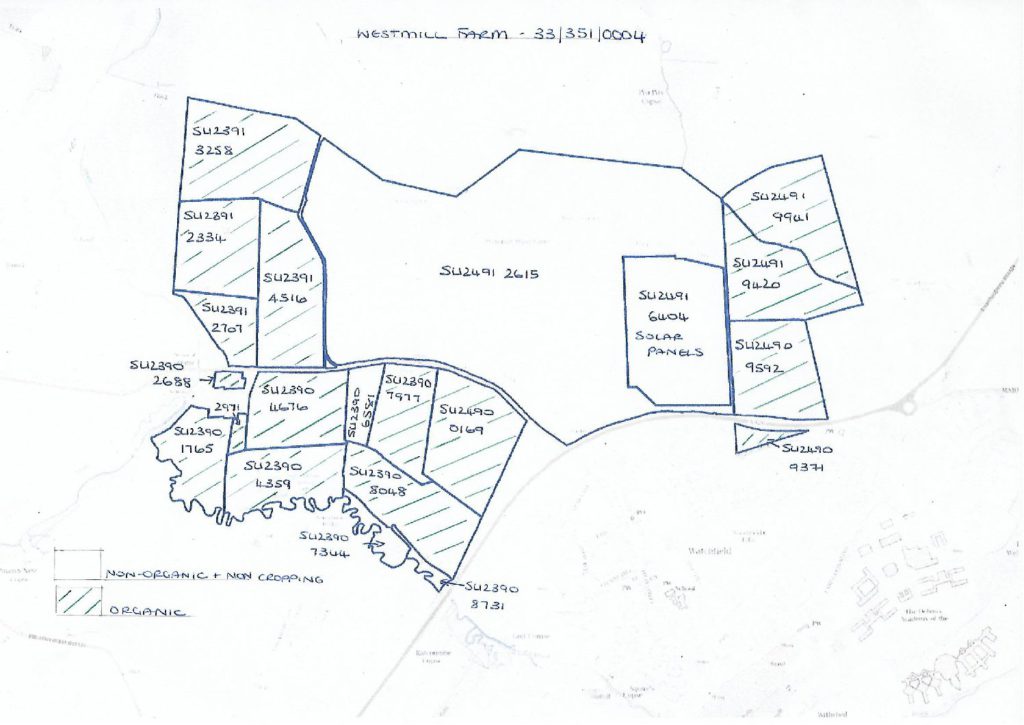 The main soil type is a thin silty clay loam over a coral rag limestone and the soil has been managed to enhance soil health and biodiversity and to build organic matter.
There are two relatively modern farm buildings, a 1000T grain store with underfloor drying and a smaller general purpose building. Both buildings have lean-tos on one side for winter cattle housing. There is a 500T silage clamp, a farm workshop and farm office. There are also a range of traditional buildings that are mainly let out to other enterprises.
The main arable crops are wheat, barley and oats. The conventional cereals have been direct drilled since 2015 and some is also bi-cropped with a clover understory. All the temporary leys are herbal mixes and are generally down for around 5 years. The majority of the farm has been organically certified for nearly 30 years.
There is currently a small organic suckler herd of 40 dams (mainly Hereford x Friesian) running with a Shorthorn bull. All youngstock are finished on the farm and all cattle are fed only forage and minerals.
For many years there has been a strong focus on conserving and improving the farm's biodiversity with various Stewardship agreements with Defra/Natural England during which time hedges have been planted, wild flower areas established, ponds dug etc. The southern boundary of the farm runs along Pennyhooks brook where there are several acres of undisturbed fen and carr. This along with the relatively low impact farming methods this has led to a higher level of natural biodiversity than the surrounding farmland with a range of uncommon wild flowers and good bird populations. Last year over 70 species of birds were sighted on the farm (click here to download our ornithological survey) and it now hosts one of the highest density breeding sites for (the red listed) Corn Bunting in the SE region as well as large populations of sky larks and other endangered birds.