Here's an update from our Farm Net Zero project – sharing updates for our farmers and the wider community the project supports in Cornwall. This post is taken from our quarterly project newsletter. Click here if you'd like to subscribe.
Our first farmer conference
We were delighted to run the Farm Net Zero Farmer Conference on the 13th September at Blable Farm, by kind permission of demo farmers Mike and Sam Roberts. The conference presented the work of the project to date, including a look at the results from the soil sampling and carbon footprinting. We also discussed future plans for trials and research to help the project's community of farmers reduce their carbon emissions and move towards net zero.
A detailed summary of the Conference can be found here.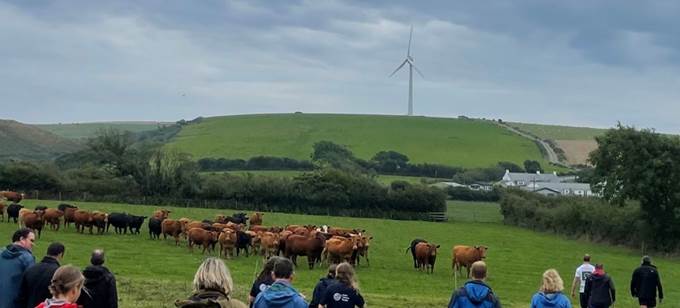 Recent events
We had some fantastic events over the summer:
In May, a Holistic Worm Management event at Matt and Pip Smith's Monitor Farm explored the Sustainable Control of Parasites in Sheep (SCOPS) principles, as well as a fascinating talk on dung beetles by entomologist Sally-Ann Spence. This led to a dung beetle hunt! The UK has many dung beetle species, with 50% of them under threat of extinction. Dung beetles play a crucial role in the farm ecosystem by starting the dung decomposition process, improving soil health and reducing livestock parasite burden. Read more here.

A summer tour at demo farm Erth Barton in June focused on adaptive multi-paddock grazing system and pasture cropping. Read more here.
In July, a Conservation Grazing event at Trerieve Farm, one of the FNZ project monitor farms which has 70 acres of clifftop grazing, explored the significant biodiversity value of conservation, together with how the business makes use of environmental payments within Countryside Stewardship. Read more here.
All events are written up on our website as blog posts and as downloadable PDFs available on our Project Resources page. Please keep an eye on our events page for future events.
Demo farms update
The demo farms have been central to supporting the innovations and events of the FNZ project. Mike and Sam Roberts of Blable Farm, and Andrew Brewer of Ennis Barton have been interviewed recently by Farmers Weekly. On the ground, the trials in place include:
Pasture cropping at Ennis Barton – the first year of trials has resulted in Tim Williams modifying the cover crop mixture suitable for wheat. A summer event in 2023 will include a tour of these trials.
Herbal leys for dairy grazing platforms – data continues to be accrued at Ennis Barton comparing white clover and ryegrass leys with diverse swards and the effect on milk yield and quality. This is a long term trial integrating assessment of rumination, and cow activity with the Allflex collars.
Diverse cover crop grazing mixtures at Blable Farm – the principles of deferred grazing and diverse swards have been used by Mike and Sam. Cattle growth weights, sward quality and yield will all come together to define the profitability of out-wintering Stabiliser cattle on these high biomass super diverse covers. The first assessments are planned within the month.
Soil recovery at Erth Barton – the first complex analysis of microbial soil diversity carried out by Julian Donald at Exeter University ESI has created a baseline data set to determine how soil biological activity can be restored with diverse swards.
Soil stabilisation after intense cropping – following a first year of cover cropping undersown with herbal leys following potatoes, Andrew Brewer has designed a range of trial mixtures to determine the best mixtures for soil health recovery. Assessments continue over the winter 2022-2023
Soil carbon and herbal leys – all demo farms are involved in longer term assessments on the rate of soil carbon sequestration comparing permanent pastures to herbal leys. This data will take 5 years to collate in full.
Maize establishment at Tregooden Farm – Malcolm and Catherine Barrett of Tregooden farm have hosted a number of events. They have been part of cover crop trials, but also tested a range of establishment methods for maize. Samples are in the lab, so the event is imminent!
Award winners
We're very pleased to share that our demo farmer, Andrew Brewer from Ennis Barton, won Grassland Farmer of the Year at the British Farming Awards last week. Many congratulations to Andrew. Further details here.
A big congratulations also to Malcolm & Catherine Barrett from Tregooden Farm, one of the FNZ monitor farms, for winning the Best Sustainable Farming Initiative at the Cornwall Farm Business Awards this year.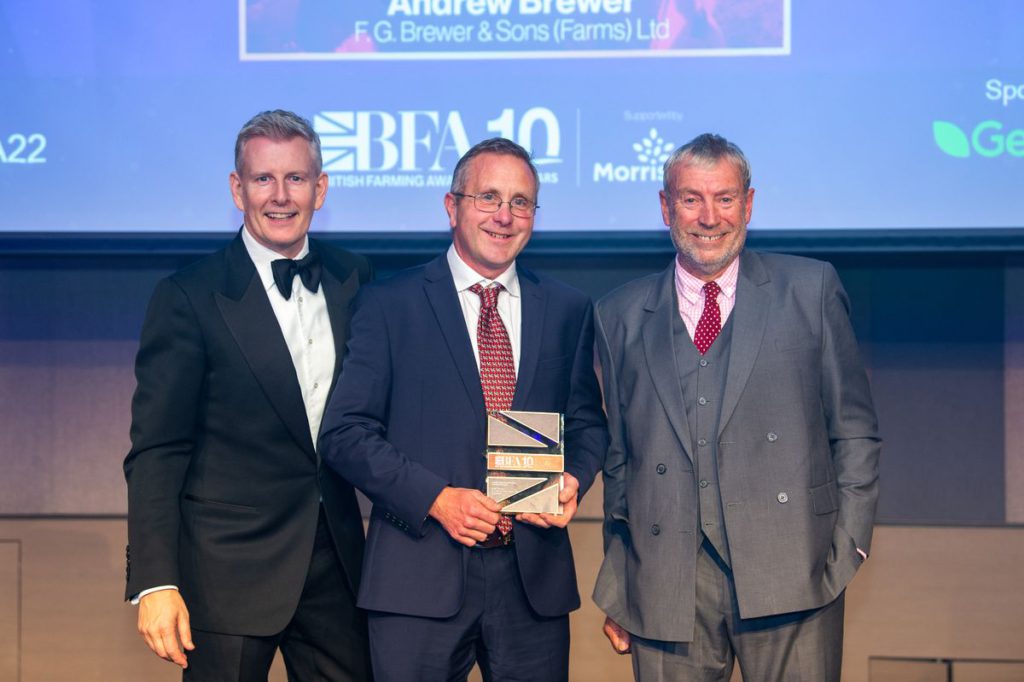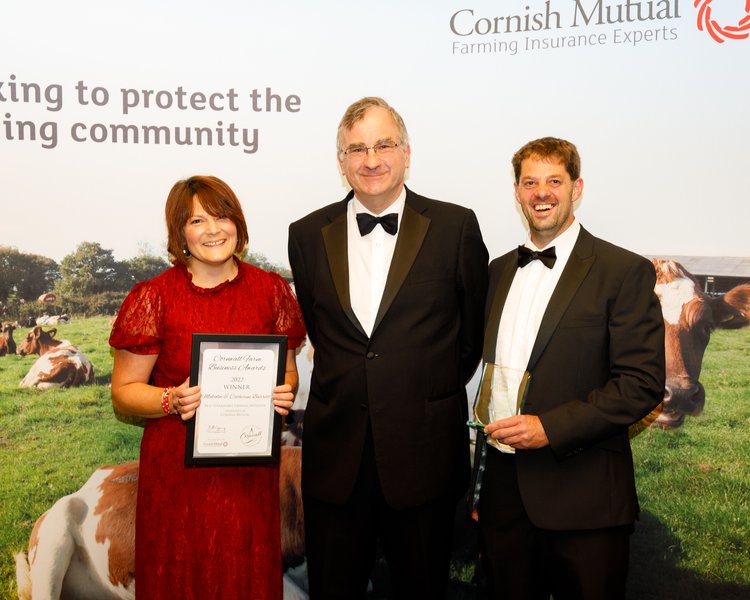 Innovative Farmers update
In July, 150 people celebrated the 10 year anniversary of Innovative Farmers at FNZ monitor farmers, Pip and Matt Smith of Trefranck Farm near Launceston, with a day of networking and workshops. They were joined by His Majesty The King (former Duke of Cornwall) who met inspiring farmers, researchers and advisors that have been involved in field labs over the last decade.
We ran two workshops to hear your ideas for farmer-led trials as part of Farm Net Zero and had an interesting discussion on strip-till maize as an alternative to plough-based systems. We anticipate running trials on this in spring 2023.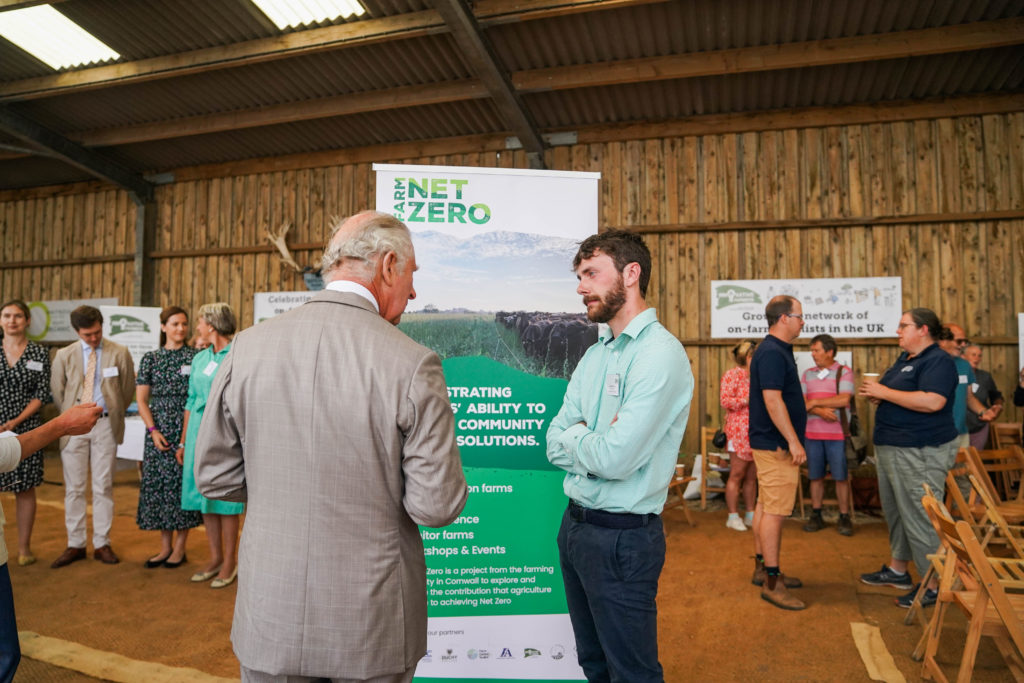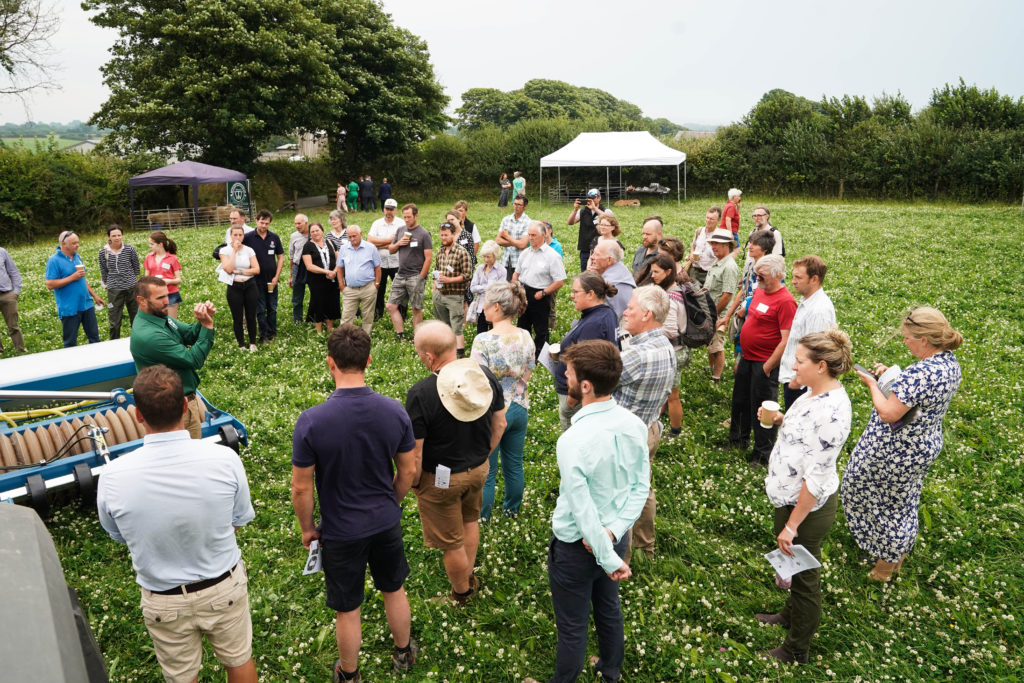 Westcountry Rivers Trust Update
One of the aspects of the Farm Net Zero project is connecting farmers and communities to share their knowledge of large-scale greenhouse gas reduction techniques with small scale growers.
In September and October, allotment holders joined us to learn more about climate friendly gardening. Four workshops were delivered for attendees to discover more about soil health, no dig, biodiverse lawns, composting and green manures.
Natural Capital Advisor Zoë Smith at Westcountry Rivers Trust said: "People enjoyed sharing tips and tricks with the professional growers and each other, with everyone feeling they had learned something new. Several told us they are taking this back to their allotment sites too to spread the word about the benefits of knowing your soil and how to manage your plot to minimise environmental impacts."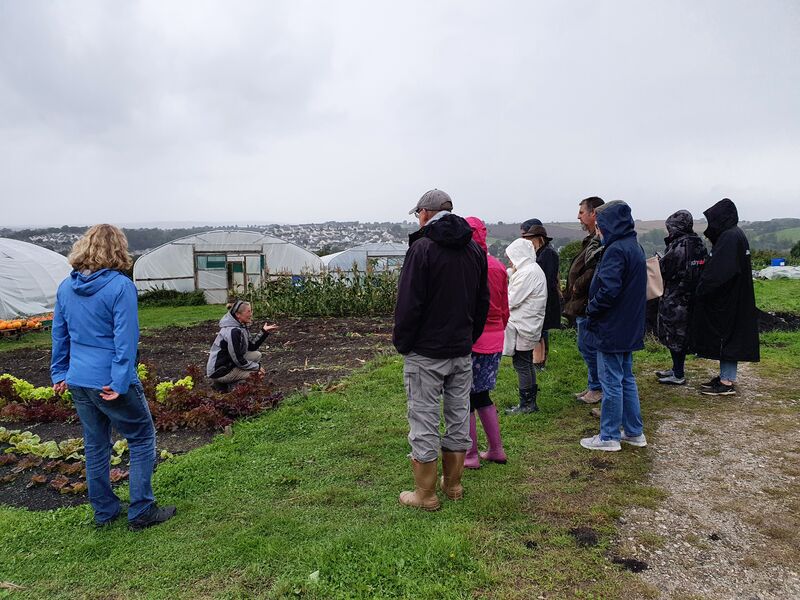 As the Office for National Statistics indicates gardens cover more than one million acres in England, they are a significant area that can contribute to carbon sequestration (storage).
More events will follow in 2023.Visit https://wrt.org.uk/project/farm-net-zero for more information.
Good cob, bad cob
We recently finished filming Malcolm for the FNZ maize event. These trials looked at the relative merits of different maize establishment methods and the inputs through the season. The trial includes cob sampling, infiltration tests and soil sampling after harvest. The film will be part of a maize evening event leading to a farmer field lab as part of Farm Net zero.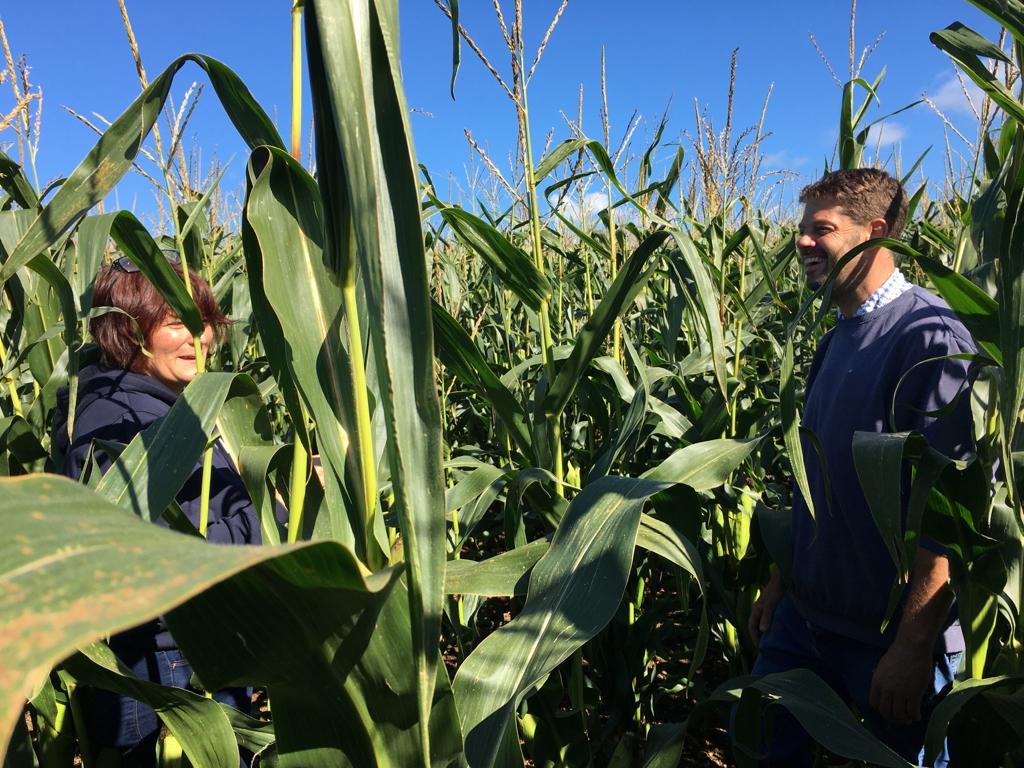 What next?
FNZ Events: Dates TBC
Maize event – evening event with results of the Tregooden maize trial, and launch of Farmer Field lab # 2
Hedgerow management and getting to grips with the Hedgerow carbon code
The environment, carbon and payments
Other upcoming events:
21 November – FNZ project partner IfA is running an online event: Decarbonising UK Meat Production – A focus on ruminants. Click here for more information.
Getting in touch
If you have any questions or ideas that would further support the community of farmers that we are working with, please get in touch: [email protected].
Information about this project including upcoming events and resources are available on the Farm Carbon Toolkit pages.
This project, funded by the National Lottery Community Fund, is a partnership between Cornwall College, The Farm Carbon Toolkit, Duchy College's Rural Business School, Westcountry Rivers Trust, Innovative Farmers and Innovation for Agriculture.