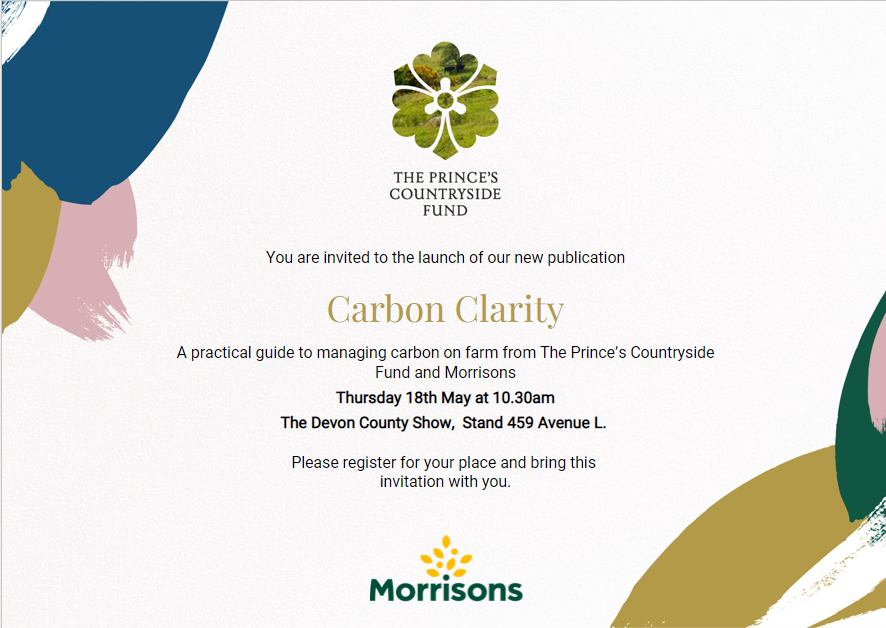 Invitation to The Prince's Countryside Fund and Morrisons Carbon Clarity Publication Launch Brunch and Programme announcement at the Devon County Show 18th May.  
The Prince's Countryside Fund (PCF) and Morrisons have a long standing relationship since initiating their partnership in 2016, specifically working to improve the business and environmental resilience of farming families through co-creating the Carbon Clarity programme and Morrisons' continued sponsorship of the Farm Resilience Programme.
We would be delighted if you could join Becky Willson, PCF and Morrisons for the launch of the new Carbon Clarity Publication, a practical guide to begin managing carbon on farms. PCF also have an exciting announcement about their successful Carbon Clarity farm support Programme. The session will include a carbon 'myth-busting' discussion, facilitated by consultant Becky Willson, from Farm Carbon Toolkit.   
Please join Becky and the PCF at stand 459 Avenue L, at 10.15am, for a 10:30am start. The brief event will conclude at 11am. Refreshments will be provided.
To attend:
Please RSVP by using the following link to secure your place: Carbon Clarity Launch sign up here