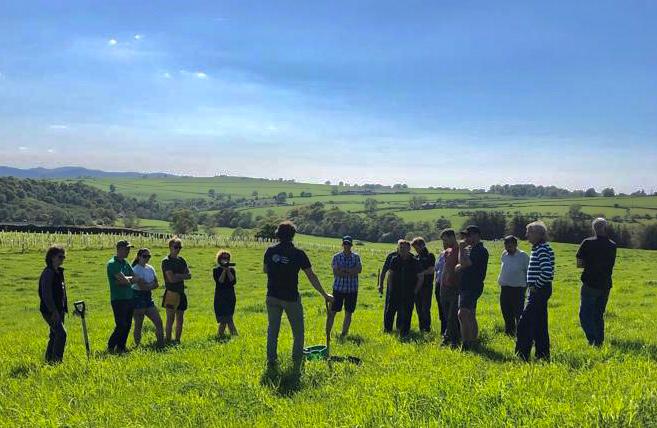 Written by Stefan Marks one of our Farm Carbon and Soils Advisors.
July marks the midpoint of 2023, with the first half passing by swiftly. It has been a varied year thus far and trying to encapsulate what a typical day might look like working for FCT can be difficult. A week can be a mix of farm days, office work and deadlines but perhaps this milestone provides a good opportunity to reflect on the progress made in the first 6 months.
So far this year my involvement in projects such as Farm Net Zero and the Duchy of Cornwall have been somewhat limited though they are certain to be a key focus in the coming months. The foundation of my projects this year have been varied including sampling in the South West for FERA, remote GIS work collating our GPS sampling data for Yeo Valley and the completion of the Durham AONB project.
The Durham AONB project has been a singular focus with a significant amount of sampling and an equally significant amount of data to process from the 29 farms in the North Pennines. Much of this was conducted over the winter period with considerable efforts from samplers in some rather adverse conditions. Indeed, whilst sampling myself I observed first hand some of the difficulties of farming in such a challenging landscape. So, when we returned at the end of May, marking the end of this project, it was fantastic to see the North Pennines at their best with nature in full flow!
To conclude the Durham project, we ran 3 days of farmer focused events in which we presented the results of the soil analysis and potential options for improving soil health to consider on farm. These events provided an excellent forum for a positive dialogue and knowledge exchange between those in attendance. I found being part of this discussion hugely beneficial providing me with greater context of farming in this distinctive landscape which does not closely resemble many farms I visit in Cornwall.
From my own experience I have found farm events are the highlight of the job and these were no different with such genuine interest and active discussion initiated by the farmers themselves. Among the discussions there was an emphasis on enhancing the natural environment and tailoring on farm operations to benefit the unique wildlife in the AONB.
It has been a busy and rewarding 6 months ending with Groundswell 2023. An opportunity to see some familiar faces, catch up with the FCT team and listen to inspiring talks from some from some of the industry's best. I am looking forward to the second half of 2023!
Read more about Stefan and the rest of the team here.