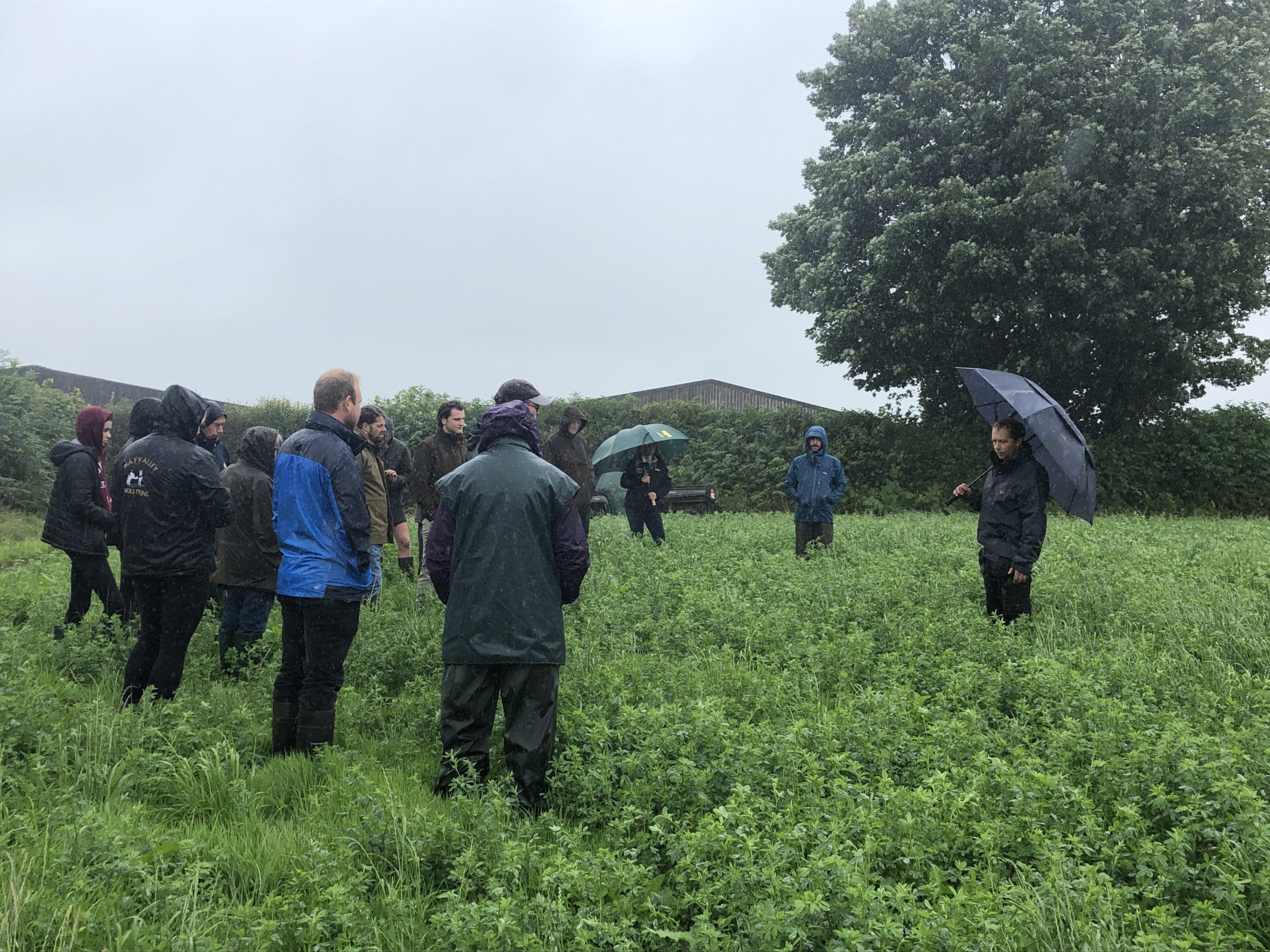 Welcome to our August Farm Net Zero update, sharing news for our farmers, growers and the wider community this project supports.
(Image above: Attendees at the Lucerne event)
Recent news and events
FNZ session at Oxford Real Farming Conference 2024
Filming has been underway as part of preparation for the FNZ session to be at the Oxford Real Farming Conference 2024. The title of the session is 'It takes a community to be Net Zero' and is to be hosted by Hannah Jones from Farm Carbon Toolkit. The session will feature a 20 minute film focusing on FNZ farm communities, and speaker sessions from contributing farmers with chances for questions.
It is an exciting opportunity to showcase the fantastic work our FNZ community has been doing in moving towards net zero, and demonstrates the power of learning collaboratively to address the common goal of reducing on-farm greenhouse gas emissions, and increasing farm resilience.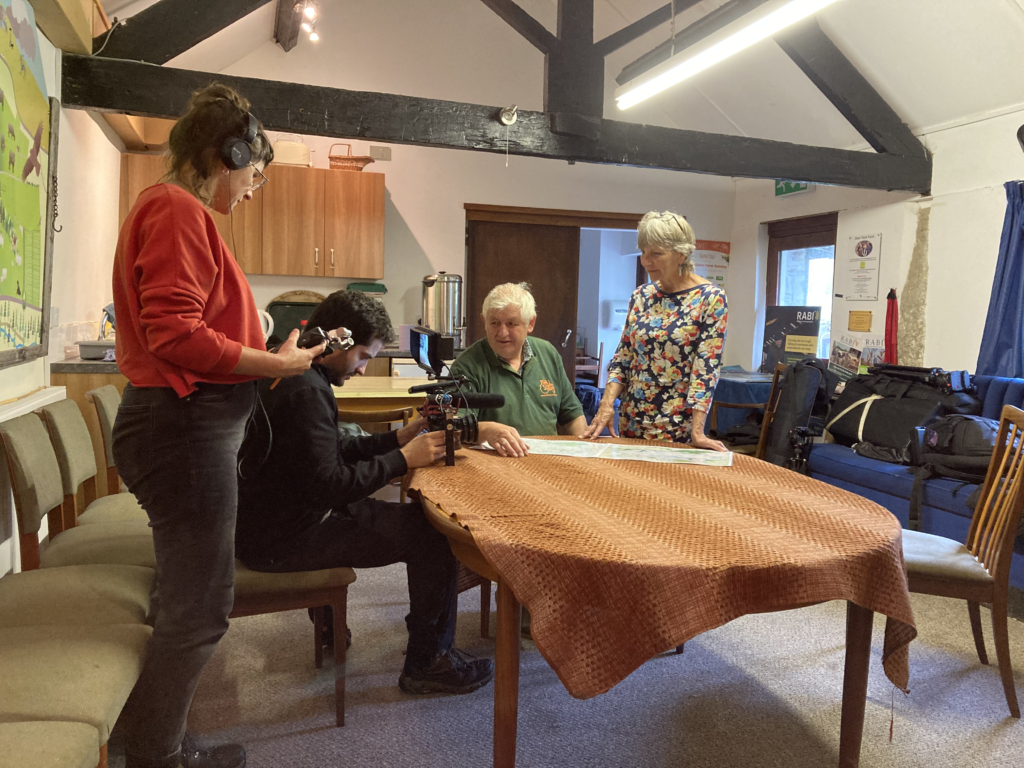 Filming with Blackbark film crew underway at Martin Howlett's Deer park farm with neighbour Bonny Lightfoot of Alren Farm.
Recent events
Lightfoot, Alren event for Stoke Climsland community – This was a great chance for non-farmers to learn about the FNZ project and what our monitor farmers are doing. It was put together and led by Tim, Bonny and Jake Lightfoot and was designed for the local community to understand the breadth of business and innovations taking place at Alren Farm. Robin Jackson (Rural Business School, Duchy College) set the scene with an accurate overview of economic and policy challenges facing farmers, including the central role agriculture has in the communities and viability of the South West. James Harbord and James Coumbe from the Westcountry Rivers Trust provided a background to the cropping on farm, and the improvements in soil health fed into the discussion providing insights into water quality and good farming practice. This event had a great atmosphere, excellent attendance and many good questions.
Some quotes from the day:
"This was such a great opportunity to get detailed info from real experts who understand the whole picture of farming and land management"
"Wonderful community event thank you so much"
"It brings home how much local residents benefit from the good farming practices – pleasant walk, shady and beautiful landscapes, good water quality and so on – all of which we get for free"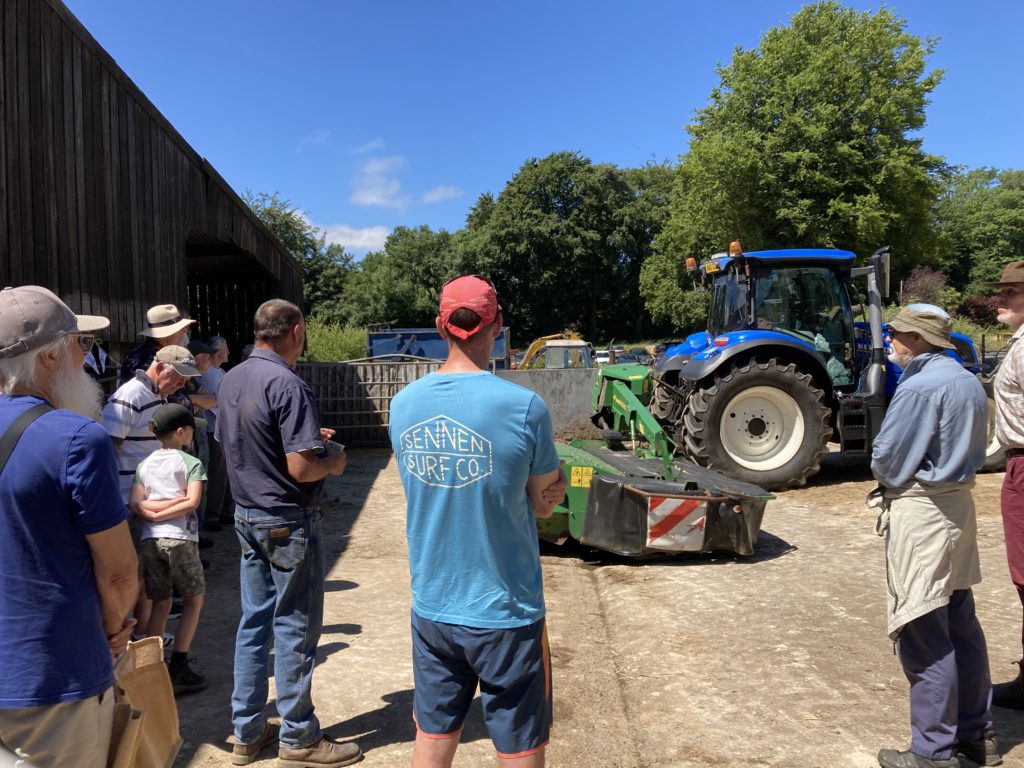 Attendees at the Alren event.
How to Grow Lucerne, Peter Cox, Mearfield – FNZ Monitor Farmer Peter Cox led an excellent talk on how he grows and manages lucerne for his dairy ration. Lucerne has the potential to provide a high-yielding, high-protein crop with fewer carbon-intensive inputs. A summary of the event is available on the FNZ Resources page here.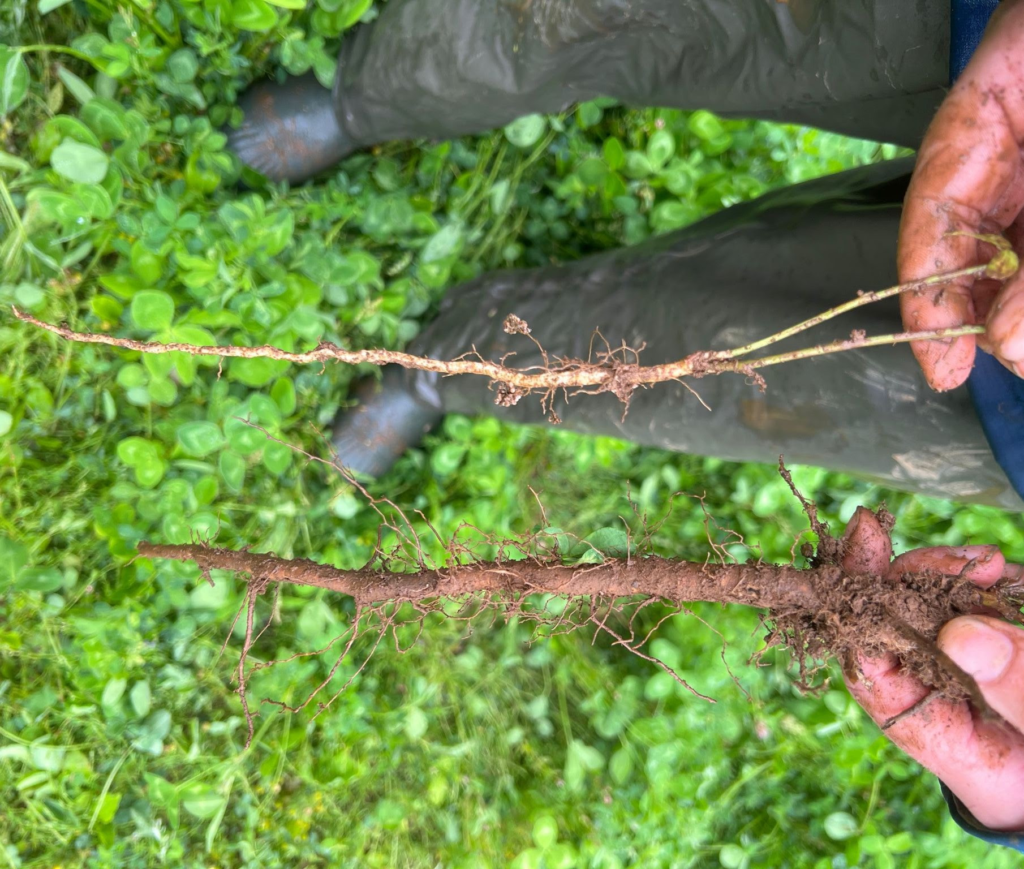 A demonstration of the deep roots of the lucerne plant (top: April 2023 sown plant showing nitrogen fixing nodules, bottom: 4 year old plant)
Demo and monitor farms update
It is great to be back out on farms seeing all the updates since our last visits. The wetter weather has certainly made soil sampling and hole digging a lot easier! If any of your Farm Net Zero sample fields are in cereals, please keep in touch with your FNZ contact so we can sample them after harvest and before cultivation. Our 3rd year of carbon auditing has been going well and we have now completed a good number. For those of you who have not had your farm carbon footprint done yet this year, the FNZ team will be in touch soon.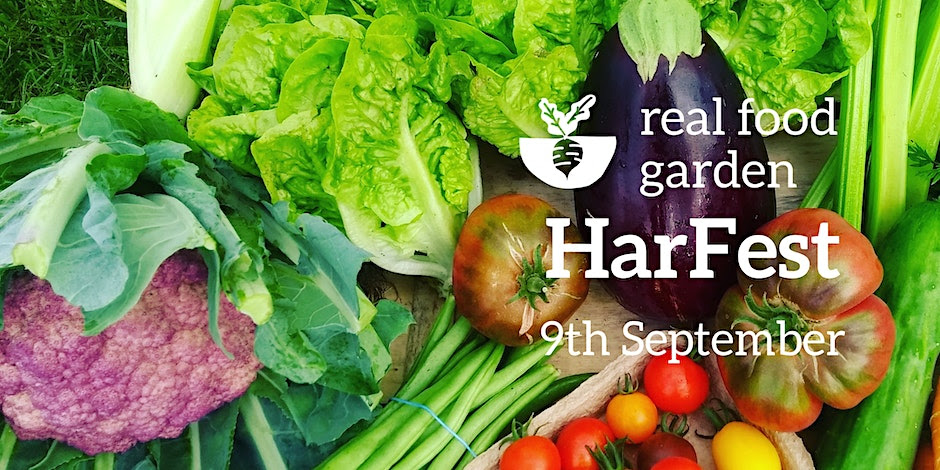 One of our brilliant monitor farms (The Real Food Garden) is hosting a harvest festival, HarFest, near Bodmin on September 9th. At this celebration of regenerative food production, you'll enjoy a fresh organic lunch, learn some fab eco-gardening tips, there'll be folk tunes and you'll have the chance to learn about soil health indicators from Westcountry Rivers Trust Farm Advisor, Zoe Smith. Bring a soil sample along for assessment and get to know your soil!
To book head to the Eventbrite page here.
Community engagement
Earlier this month, the FNZ project received a lot of attention at the Westcountry Rivers Trust stall at the Truro BIG Summer Market, with visitors pledging to 'plant more bee friendly flowers' and 'stop using peat and fertilisers' on their plots.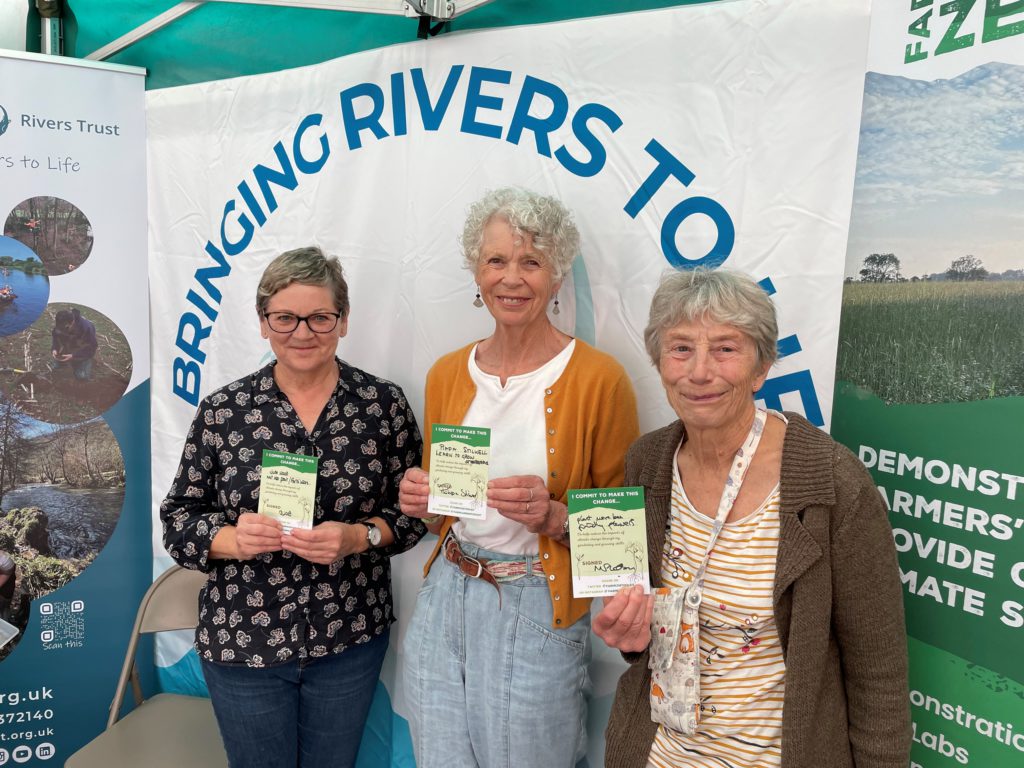 Stall visitors making their pledges.
We've got some exciting dates for your diary!
After the success of the 'No-Dig Gardening' workshop, the Westcountry Rivers Trust will be holding another of their FNZ climate-friendly gardening workshops with the Community Roots Garden on September 21st. This session will focus on beneficial bugs; how to welcome them into your garden, what environmental benefits they can bring, and how this all helps fight the climate crisis. You'll even go home with your own home-made bee hotel!
Reserve your free spot here.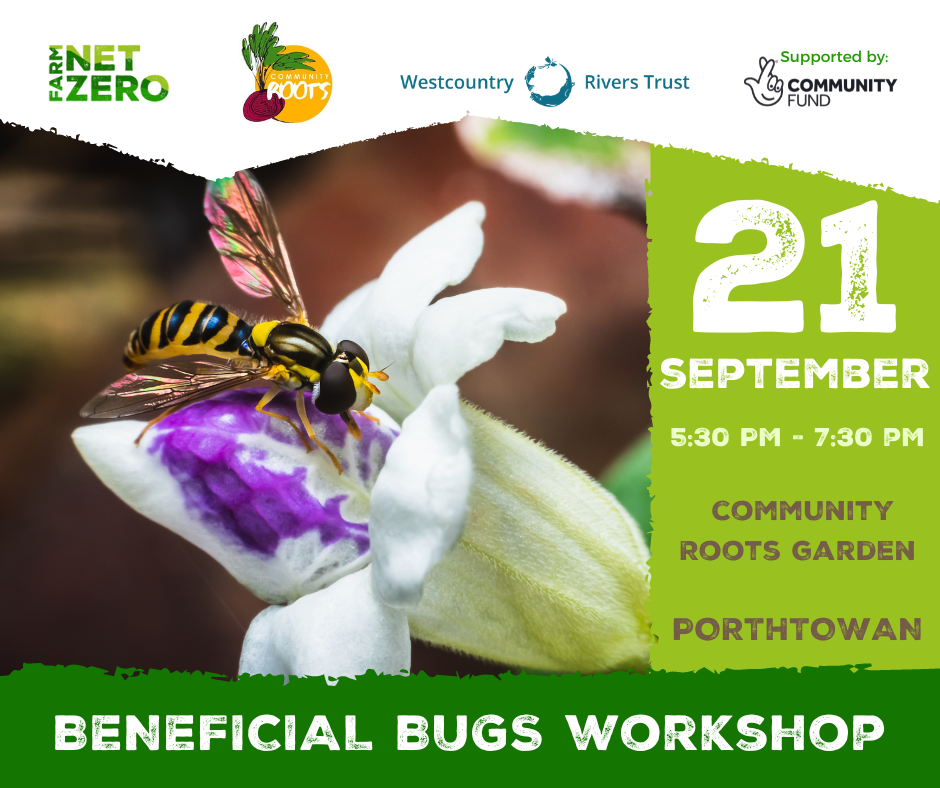 Head here to keep up with other future events, and if you'd like to hold one of the Westcountry River Trust's climate-friendly gardening workshops on your land contact Zoe at [email protected].
In addition, if you'd like to support the Westcountry Rivers Trust with their incredible work, get involved in their riverside challenge throughout September. Explore the length of your favourite river by walking, cycling, swimming or paddling 24km in the 24 days running up to World Rivers Day! Find out more on their campaign page launching on September 1st.
Current farm field trials
A little insight into some of the fab field trials currently underway as part of the FNZ project:
Nitrogen use efficiency at Trenance – is urea needed alongside digestate or is digestate enough to produce high quality silage grass?
Legacy effect of clover under maize for winter barley at Tregooden
Intercropping savoy cabbage at Ennis Barton with Riviera Produce.
Other news
It was lovely to see so many familiar faces back at Groundswell Agriculture in late June, including several of the FNZ monitor farmers (and some demo farmers). The weather held out and it was great to get a sense of the FNZ community that is ever growing.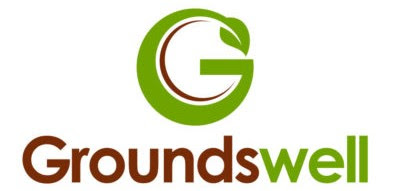 What next?
Upcoming events:
Getting in touch
As ever, if you have any questions or ideas that would further support the community of farmers that we are working with, please get in touch at [email protected]
All information about the project including upcoming events and resources are available on the Farm Net Zero website. If there is anything you would like to see featured please let us know.
Best wishes,
The Farm Net Zero Project Team.
This project, funded by the National Lottery Community Fund, is a partnership between Cornwall College, The Farm Carbon Toolkit, Duchy College's Rural Business School, Westcountry Rivers Trust, Innovative Farmers and Innovation for Agriculture.