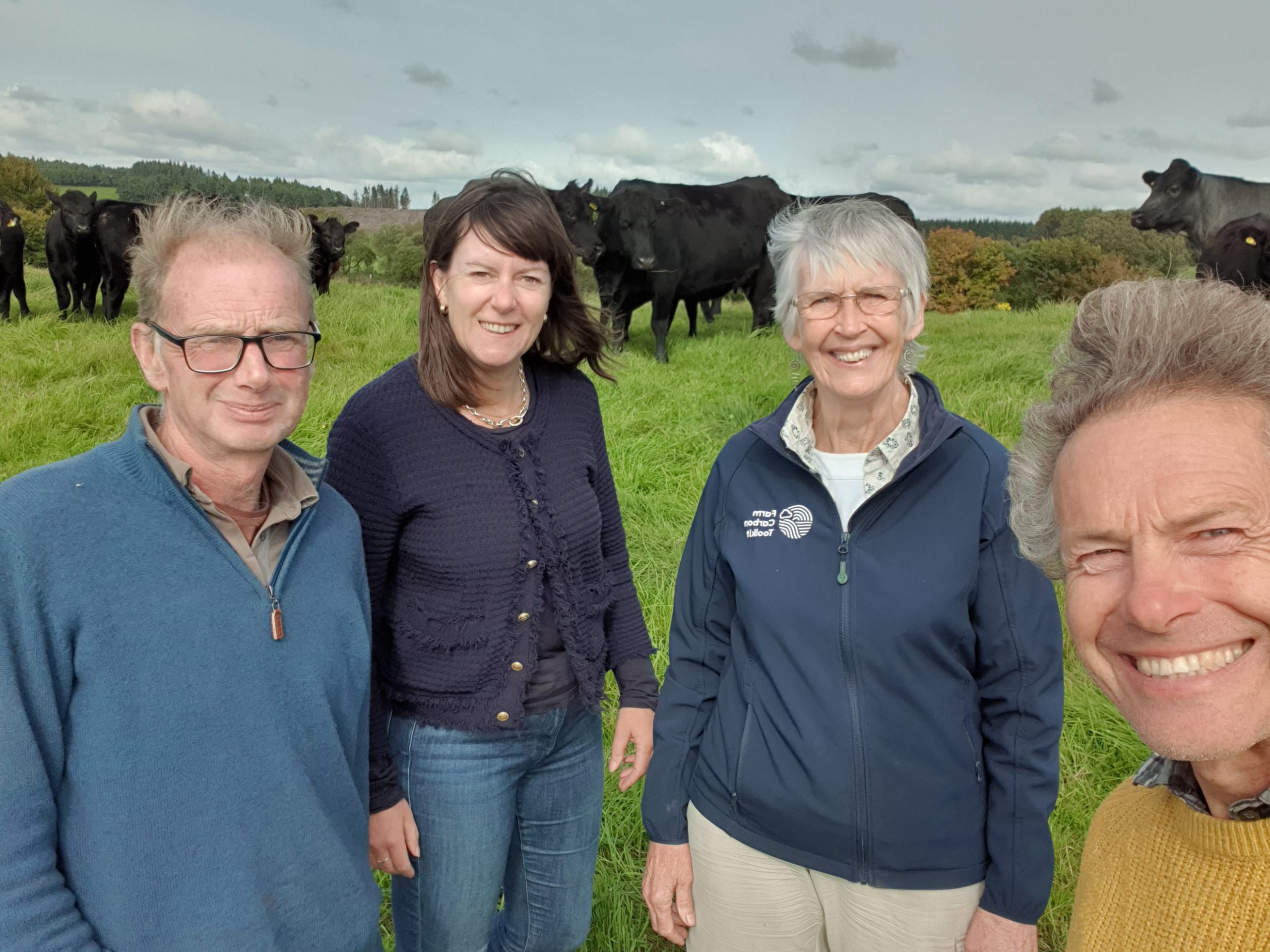 The winners of our inaugural Carbon Farmer of the Year competition are:
Overall winner:
Doug Christie from Durie Farms, Leven, Fife, Scotland
Finalists:
Anthony Ellis from Pensipple Farm, Liskeard, Cornwall
Craig Livingstone and Matt Bloor from Lockerley Estate and Preston Farms, Broughton, Stockbridge, Hampshire
Thomas Gent from Oakley Farm, Tydd St Giles, Cambridgeshire
Photo above: Winner Doug Christie (left) with judges Emily Norton, Liz Bowles and Adam Twine with his Angus cattle.
Our judges Adam Twine (FCT Founder and non-executive director), David Cope (Duchy of Cornwall), Emily Norton (Chair of Soil Association Exchange), and Liz Bowles (FCT CEO) were very impressed with the commitment and innovation shown by all the finalists in identifying sources of GHG emissions and developing strategies to reduce emissions and increase the rate of carbon removal into soils and non-crop biomass.
This year's winner stood out to the judges for his dogged determination in identifying how best to reduce emissions, whilst reducing reliance on those external inputs which he realised long ago came with unintended consequences. When Doug started his journey towards a low emission, regenerative farming system, it was far from popular.
All our finalists have made great strides in reducing business reliance on fossil-fuel based fertilisers and fossil fuels through changes to their farming practices and careful soil management to reduce GHG emissions.
The long-term objective of this competition is to create a network of alumni who are changing their management practices to better manage emission and carbon storage on farmland who will inspire others through activity, practical demonstrations, and advocacy for changing management practices.
Network creation is of paramount importance and this competition will raise the profile of the many effective ways in which on-farm emissions can be reduced and increased carbon storage can be achieved.
Emily Norton, Farmer and chair of the Advisory Board for Soil Association Exchange, says
"I was interested to see the range of approaches being taken by the finalists and was delighted that so many businesses were brave enough to put themselves forward to be judged on something which is a relatively new concept for Agriculture"
About the Farm Carbon Toolkit and the Carbon Farmer of the Year Competition
Farm Carbon Toolkit is an independent, farmer-led Community Interest Company, supporting farmers to measure, understand and act on their greenhouse gas emissions, while improving their business resilience for the future.
For over a decade, Farm Carbon Toolkit has delivered a range of practical projects, tools and services that have inspired real action on the ground. Organisations they work with include the Duchy of Cornwall, First Milk, Dartmoor National Park, Tesco, Yeo Valley and WWF. The Farm Carbon Calculator is a leading on-farm carbon audit tool, used by over 7,000 farmers in the UK and beyond. To find out more visit www.farmcarbontoolkit.org.uk
The Carbon Farmer of the Year Competition aims to recognise and champion farmers, sector
organisations and businesses who are leading the way in adopting farming practices and developing new technologies which are helping to reduce farm emissions whilst optimising output.
This new competition will allow for discussions on carbon emissions and sinks on farms to be framed in a very practical way to allow for maximum engagement with the issue. Farm Carbon Toolkit facilitates discussion and information sharing between farmers and other actors which ultimately leads to changes in on-farm practice.
Next year's competition will be launched in February 2024.