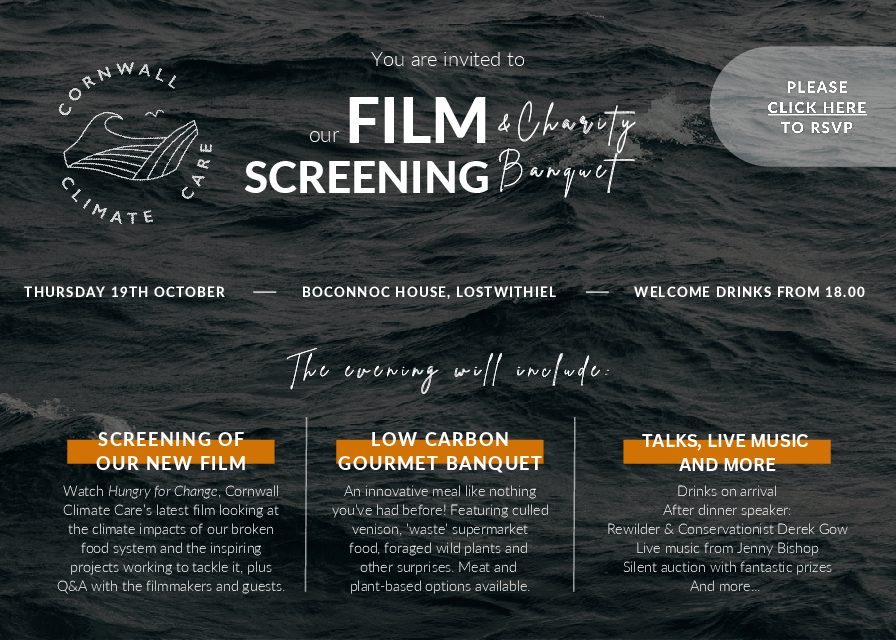 Come and join Cornwall Climate Care for what will be an action-packed evening to screen the latest episode in the award-winning Cornwall's Climate Stories series on Thursday 19 October.
This exclusive event, at the spectacular Boconnoc House, Lostwithiel, will feature a whole range of fascinating ingredients – from a keynote speech by maverick rewilder Derek Gow, who will challenge your assumptions about how we use our land in the UK, to a three-course gourmet feast made from an alchemy of some of the most unexpected ingredients you could imagine.
Screening of their new film
Watch 'Hungry for Change', Cornwall Climate Care's latest film looking at the climate impacts of our broken food system and the inspiring projects working to tackle it, plus Q&A with the filmmakers and guests. Doors open at 6pm with drinks on arrival.
To book:
Book your place as soon as possible as there are limited spaces: Booking and RSVP.
Find out more:
To find out more about Cornwall Climate Care head here.
Please note this event is not organised by Farm Carbon Toolkit.