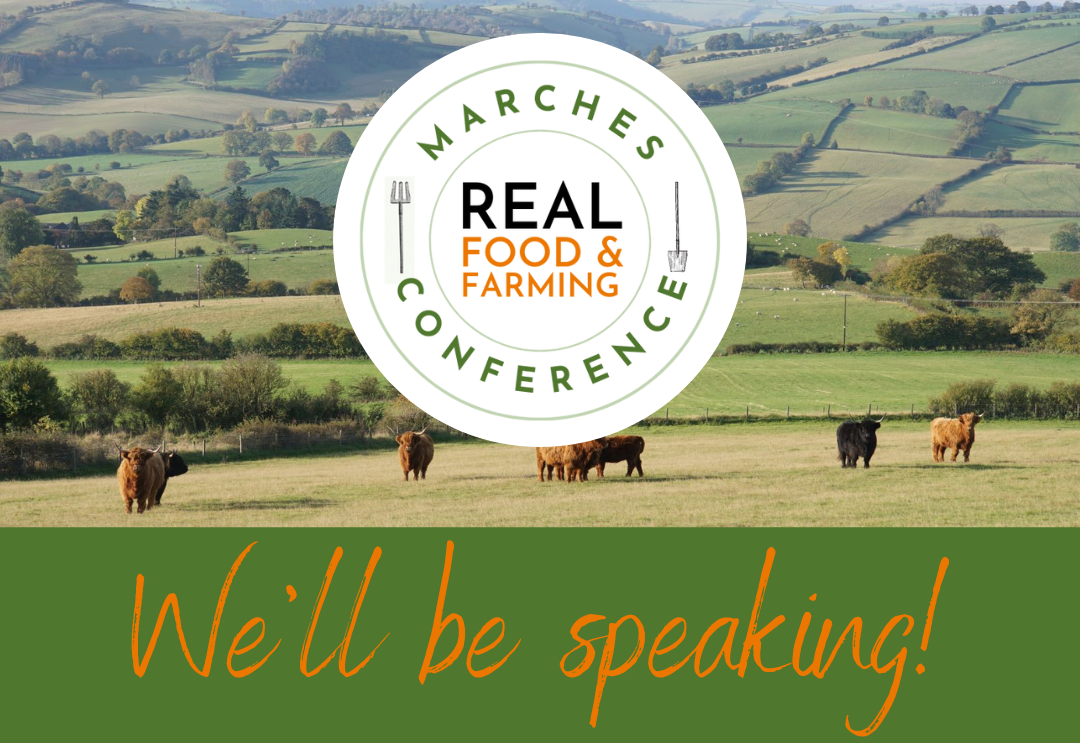 We are happy to be taking part in the first Marches Real Food & Farming Conference taking place on 15th & 16th September.
The conference will be bringing together food producers, farmers, scientists, and influencers from across the Marches to discuss the future of farming and some of the newest ideas on farming and food.
The conference is all about the Marches region and how to create a regenerative and resilient food future in the Marches. A great programme is being lined up which brings together people engaged nationally and locally on the key issues facing how we grow, process, sell, share and eat healthy, nutritious food.
There will be opportunity for dialogue and debate with thought leaders and local people involved right along the food system, ranging from big picture policy and practice to local food strategies and action. There will be deep dive sessions on everything from seeds to livestock management, from increasing soil fertility, building closer supply chains and collective small-scale mixed farming. Practical workshops will provide hands-on experience with a wide range of skills, from measuring nutrient density to on-farm mapping, from composting to getting set up on Open Food Network.
The focus throughout is on localization and coming together to:
Re-imagine our food future
Explore how we can collaborate and coordinate actions
Create networks & carve alliances where we can work together, building a community for food and farming regeneration that is tailored to our region.
The Collaboration hub will provide a dedicated space to connect with others, share ideas and make sure you are part of shaping how we move forward.
Please note FCT is not an organiser of this event, however Emma Adams from FCT will be speaking at the event on Friday.
The event runs on until Saturday 5:30pm.
To book:
If you'd like to come along and support the conference plus meet up with like-minded peers to discuss the challenges facing us all and share ideas, you can book tickets here.