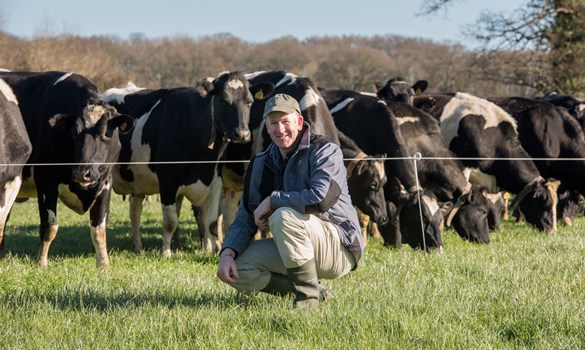 Join AHDB and Becky Willson (FCT) for Tim Downes' last strategic farm meeting to review his journey and explore how he is reducing his carbon footprint while continuing to run a profitable grazing-based system which is fit for the future.
Carbon emissions are being increasingly scrutinised by milk processors, and farms are under pressure to reduce their carbon footprint through efficiency and with more accurate calculations to increase their carbon storage – but this must be at balance with profitability.
Tim is very conscious of protecting and enhancing the environment but also sees the positive impact of these choices on the profitability of his business.
In the last few years Tim has reduced his carbon footprint significantly. This event will investigate how he has done this and practices you can apply at home.
Becky Willson from Farm Carbon Toolkit will be talking about the potential to continually sequester carbon on a grassland system, taking carbon deeper and explaining how management practices can enable this: "its not the plough, it's the how".
The meeting will cover
Carbon footprinting as a tool for increasing productivity
Measurements of carbon sequestration – what do they mean?
Taking carbon deeper – Sequestration or storing
The role of biodiversity and the wider environment
Increasing profitability through carbon management
Plans for the future
Please note children under the age of 16 and dogs are not allowed at the event, even if they are staying in the car.
Find out more about AHDB's health and safety guidelines for events
If you have any questions about this event, please contact AHDB using the details below.
To book:
Please note this event is not organised by Farm Carbon Toolkit.