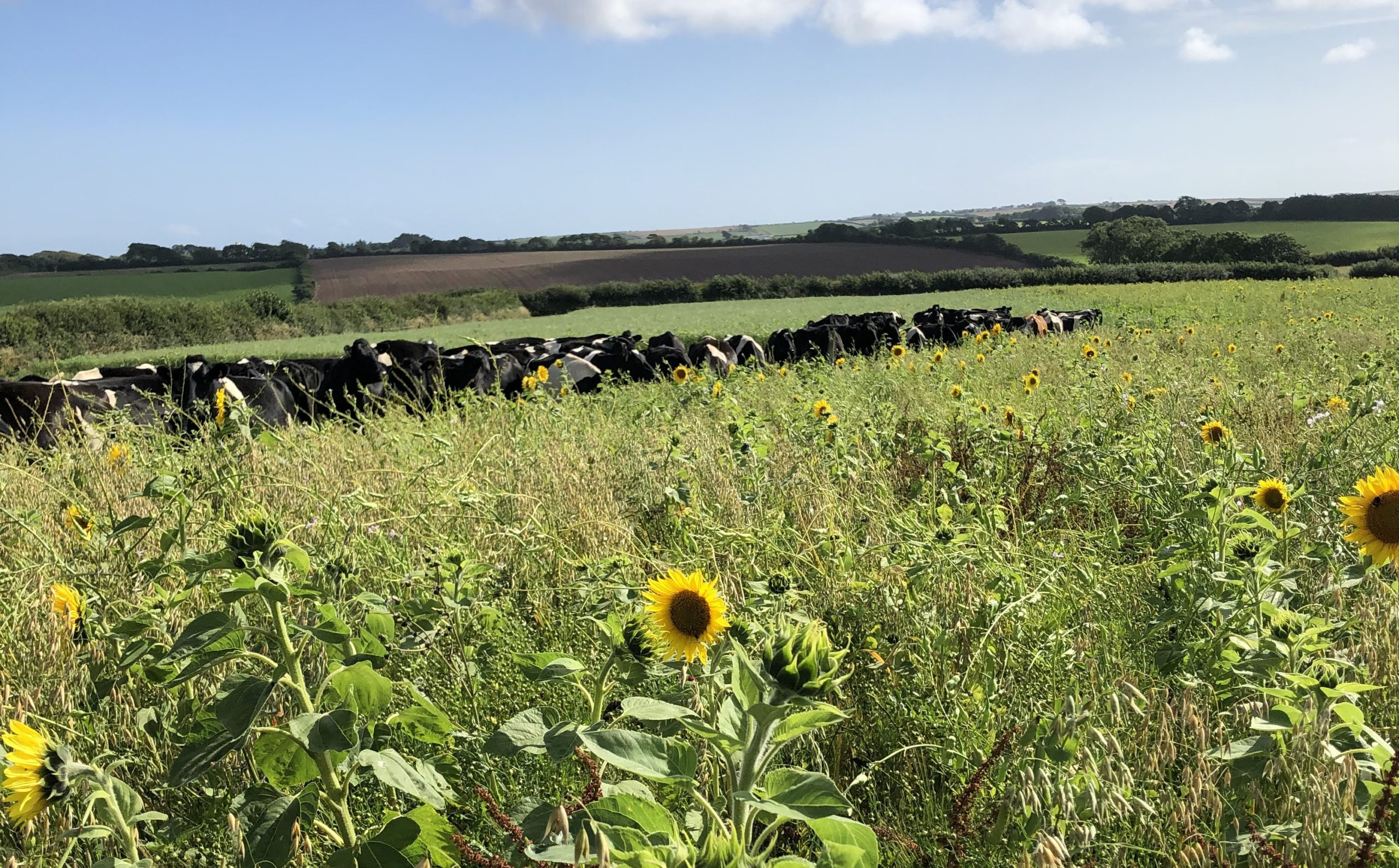 In the first week of August a range of farmers and industry professionals met at Moor Farm in south west Wales to hear the 2022 Runner-up to the Soil Farmer of the Year competition, Andrew Rees, explain how he has developed a dairy system with soil health at the centre.
Moor farm is a 160 hectare grassland farm near Haverfordwest, which over the previous five years has been undergoing a holistic regeneration away from winter brassicas and a high input system to a fully rotational grazing system integrating diverse species-rich swards. Andrew has seen significant benefits to his business from this change of approach, including a reduction in fertiliser cost and usage alongside better herd health demonstrated by the vast reduction in veterinary fees.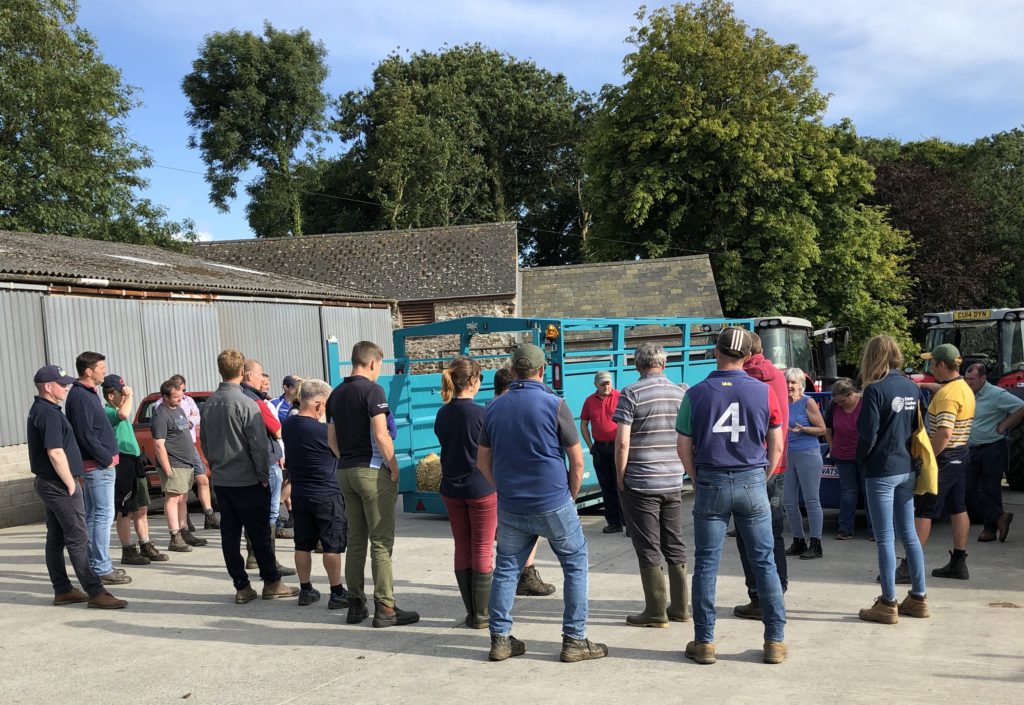 Experimenting with different mixtures and management has led Andrew to create a system intended to provide year-round forage for his dairy herd. Moving away from pure perennial ryegrass leys has had its challenges, but Andrew explains
"Working to a 21 day grazing rotation is stressful, you can quickly run out of grass during adverse conditions, the aim of using herbal and diverse leys was to increase the resilience of the grazing platform. Now we have much more ahead of us and much more flexibility within the system where we aim for a 60 day rest period, but this can be up to 120 days in some cases".
He adds,
"We started by sowing simple herbal ley mixtures, but as they were still managed like ryegrass we lost a lot of the diversity and therefore also potential yield. Now we have much longer rest periods between cutting or grazing to allow for regrowth and the leys are far more resilient."

Fields are divided into 0.1 hectare blocks and animals are moved according to need. Andrew now has a keen eye for how much forage his grazing groups require despite the wide diversity of covers across the farm. When asked about his system Andrew states,
"We use a leader-follower approach whereby the R2 cattle (10-22 months old) follow the R1 heifers (3-10 months old), with 24 hours between the groups in each grazing cell. Having the smaller cattle grazing first means they have preferential grazing and we are not limiting their intake in any way, not forcing young animals to graze down also helps lower worm burdens. Older animals can then be pushed a bit harder and are able to deal with the more mature forage"
He further adds,
"Anything which isn't grazed is hopefully trampled; that is when we know we have the stocking density and number of moves per day right – if the ley is starting to become a bit stemmy we move them more often, up to three times per day."
This trampling action which Andrew integrates into his system has wider benefits for the soil in that it is better protected from environmental conditions and also now of higher quality with the constant organic additions from the leys above. Andrew fully promotes this system outlining to the group,
"Changing grassland management has given conditions for native seeds to germinate. We don't want bare soils that cap and produce the conditions for weeds to appear. By keeping the surface covered with either growing plant matter or the trampled residue, we reduce our weed burden."
Since the transition to more species-rich leys Andrew has found,
"The different rooting systems we have in the fields open the soil up and improve the structure, therefore we are removing the conditions in which weeds can become dominant."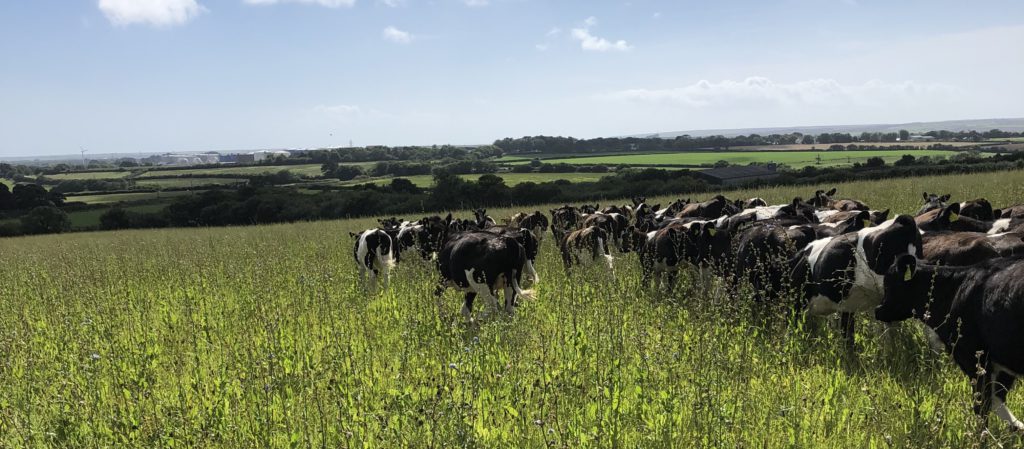 The system Andrew has created focusses on a long rotational grazing platform for both the milking herd and young stock combined with deferred grazing to provide areas for out-wintering cattle. He explains,
"We used to have kale in the rotation to provide over-winter feed but were finding that there was far too much damage and soil wash. We now use a deferred grazing system to out-winter our R1 heifers which are between 8 to 10 months old. We position bales when the land is dry and travels well, ready to provide additional feed throughout the winter period."
The condition of the soil and the health of the livestock are the key priorities when outwintering stock, to manage this Andrew explains,
"Heifers that are outwintered are scheduled to move every two days, but this can increase to three times daily to avoid soil damage if conditions become wet. This system works for us as our heifers are light and we still have the capacity to bring them in-house if the weather or soil requires it."
Following these outwintering processes, fields are re-seeded, with Andrew tailoring off-the-shelf mixtures to suit his system,
"We have started reseeding with a half-rate Cotswold herbal ley mix, with half-rate Barenburg Barrmix (this was more because it's what I had in the shed to give right balance of clovers and herbs) with additional annuals to provide a boost to performance in the first year whilst the other species establish".
When establishing his leys, Andrew aims to use as simple and minimal cultivation system as possible, removing old or tired leys with low rate glyphosate buffered with humic and citric acid to lower the pH. He then drills the seed in two directions to increase the eventual cover with an application of seaweed to give a starter boost of nutrition.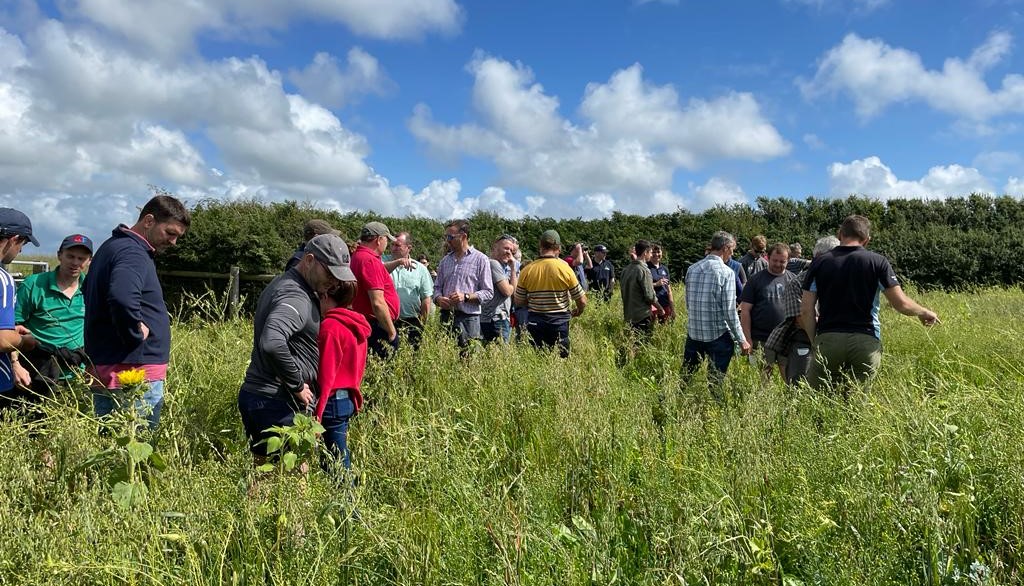 Andrew has, on average, reduced nitrogen usage by 140kg per hectare whilst still producing silage for the milking herd. He has recently started silaging the herbal leys which are highly diverse and contain species such as pea, barley, vetch, sunflowers, linseed, radish, chicory, plantain and a mixture of clovers. This will be analysed when the clamp is reopened and fed as part of the usual ration. In addition to regularly analysing silage, Andrew also frequently tissue tests his leys – results suggest the mineral content of his leys are double that found when they were in a perennial rye grass system. The species composition has a naturally far lower demand for nitrogen compared to perennial ryegrass and is much better at scavenging existing nutrients within the soil, further reducing the need for artificial inputs.
Andrew uses slurry in combination with a Tow and Fert system to help maintain fertility and production across the farm. Fields destined for silage are given slurry before and after the 1st cut with a 25kg sprinkle of N prior to cutting. The Tow and Fert is used to top up fine lime, phosphate and humates alongside some foliar potassium. Andrew samples a fifth of the farm every year, with the whole farm last sampled in 2018 – having this up to date data allows him to understand where his nutrients are most required and move away from broadacre applications. Fine lime is regularly used across the farm with Andrew detailing, "Applying fine lime helps increase the free exchangeable calcium in the system, we are aiming to have calcium at luxury levels which will take time but will help with the longevity and palatability of the tall covers."
As a dairy farmer, herd health is a main priority for Andrew. Through implementing changes to grazing species composition and management, alongside reducing the nitrogen use across the farm, livestock performance has seen vast improvements. The dairy herd are also grazed on diverse summer cover crops, being turned out for a few hours after milking.
Andrew explains this strategy,
"Having the cows grazing across the diverse leys has improved butter fats and allowed us to stretch out the grazing season where historically we may have run out of grass. This means that the herd is currently balanced between herbal leys, traditional grass pasture and silage in the yard when they come in to be milked. The additional grass means we only need to supplement feed them around 4kg of cake per day, massively reducing costs."
The cows are now found to be far more content, with lower nitrogen covers thought to lower the free nitrates in their system, reflected in the results of the milk testing. This contentment has also improved fertility and the health of the dairy herd. Empty rates have decreased from 10.5% in 2019 to 5.5% in 2021 with mastitis per 100 cows also reducing from 19.7 in 2019 to 3.5 in 2021.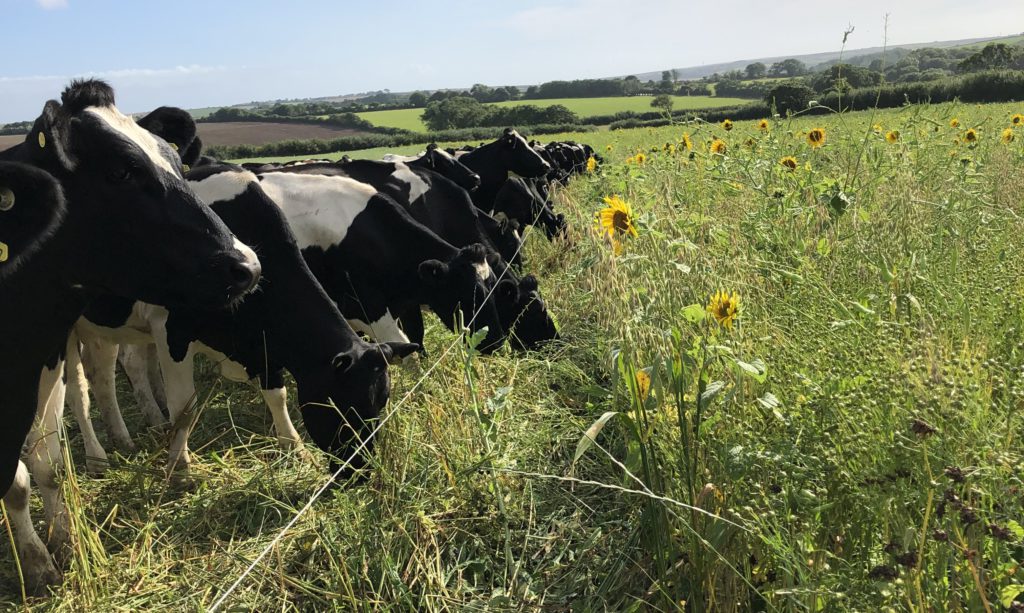 The increased fertility in the herd has also allowed Andrew to move his spring calving system later so they can calve to match the grass growth, reducing the housing requirement as calves are weaned on grass with outside grazing access from 4 weeks of age. Worm burden has also drastically reduced and consequently, so has the requirement for anthelmintic products. Faecal egg counts are conducted to see if any wormers are required, however Andrew has found that due to the long-grass grazing system with animals biting higher up the plant in combination with chicory rich pastures, very little, if any, are required.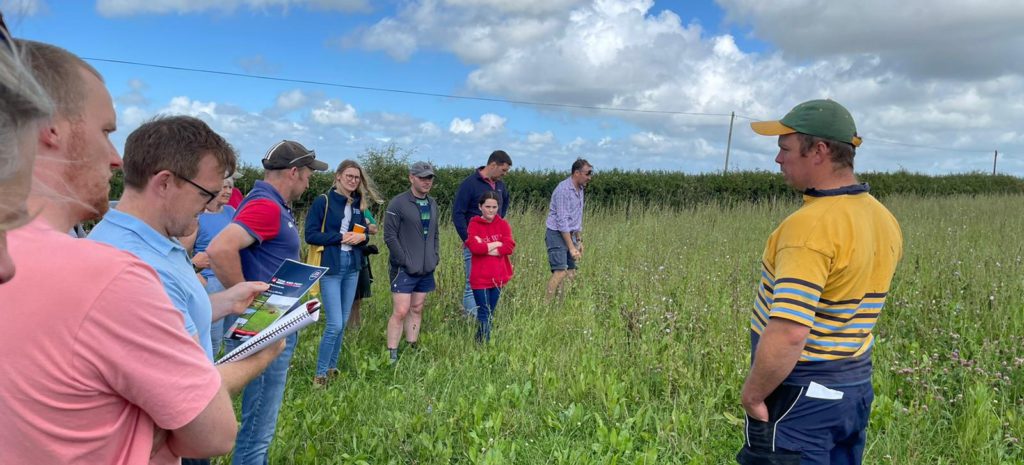 When asked about how he would advise others beginning along the herbal or diverse ley journey Andrew has these words of wisdom,
"Start by drilling the leys in the spring as this gives a much better chance for establishment whilst you are experimenting with your system. If you are going in later when the conditions could be dryer or colder it might be tough on the clover to get up and away."
At Moor Farm, the leys are highly diverse and full of many different species. Andrew's thinking behind this is,
"When you establish herbal leys you can often see a drop in yield compared to a perennial ryegrass whilst they establish, therefore we also drill in summer annual species to help build the quantity of forage available to graze. If we are establishing a ley in the spring, we would expect to be able to graze it that autumn. However, this would be a lighter graze than in the second year and not as tight, just to make sure we don't stress the plants too much".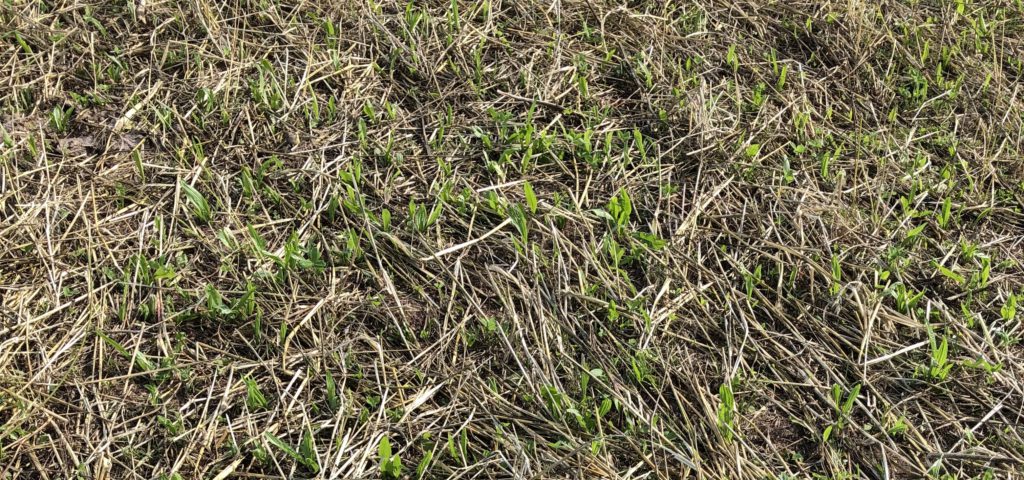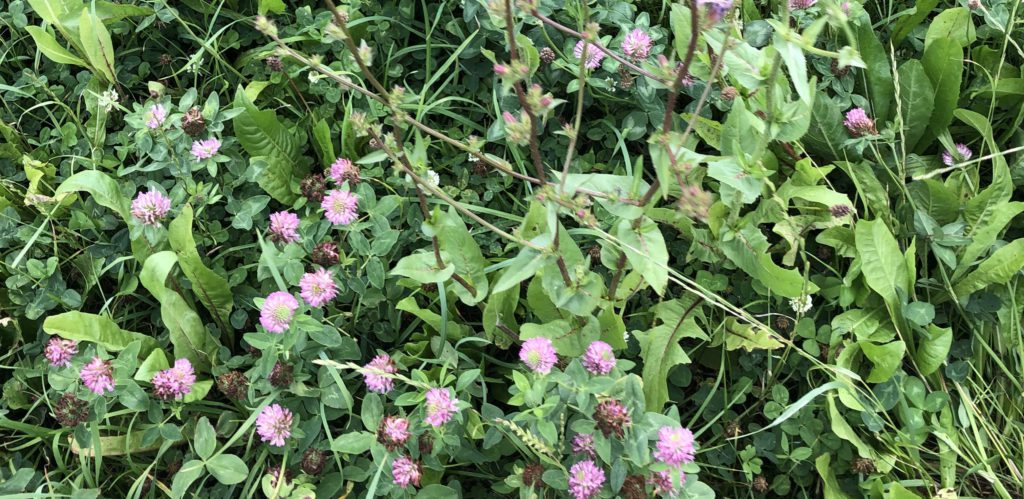 The next challenges for Andrew focus further around nitrogen reduction, as he discussed with the group,
"The aim would be to be using zero chemical nitrogen whilst managing to maintain our current production. I want to be able to leave the land in a better condition than when we started whilst also being financially profitable."
During the Soil Farmer of the Year competition, the judges found Andrew's approach highly innovative, understanding how to maximise the health of the soil to produce high quality, mineral rich forage for his cattle using less inputs, but instead through his grazing and nutrient management system. The benefits Andrew has observed upon the health, welfare and productivity of his cattle through diversifying the leys has been highly successful – also giving him additional flexibility in other areas of the farming business now he is secure in the growth of forage on the farm, developed through increasing the resilience of his system.
Ourselves at FCT would like to thank Andrew, his family and his team at Moor Farm for such an excellent tour, providing insight in how the system works and inspiration of what is possible for dairy grazing systems. The Soil Farmer of the Year competition is run by FCT in association with Innovation for Agriculture and this year has again been kindly sponsored by Cotswold Seeds and Hutchinsons. If you would like to find out more about the Soil Farmer of the Year competition please keep an eye on our website for updates on the other farm walks in October 2022 and the opening of the 2023 competition.