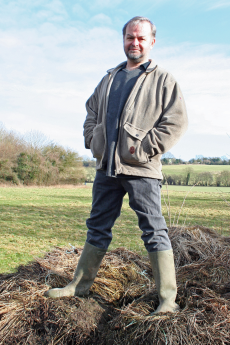 Andrew is an arable farmer in Hampshire with a strong conservation and sustainability mind-set. Beyond the farm he has been involved in many initiatives primarily focused on climate change and renewable energy.
In the early 1990s he initiated, with friends, the setting up of a local environmental charity, which, with Andrew as its chair for 15 years, grew to employ 25 people.
Andrew has worked in wind, solar, storage and anaerobic digestion, and was a member of Forum for the Future's Steering Committee for their "Farm Power – Putting Agriculture on the Grid" project. He was a founder of a Community Interest Company seeking to set up a local community bank focused on low-carbon and social enterprise lending.
He was also part of a team that established a new retail business, initially based at his farm, and remained a director until it reached £1M turnover.
Thus, Andrew has experience beyond farming of board management, fundraising, business start-ups, and working for government agencies and NGOs. He has been a director of Farm Carbon Toolkit since 2014.
His farm has been a net exporter of electricity from solar PV for over a decade, and this has also enabled his personal and business car use to be virtually carbon-free by utilising the PV to charge an electric car.
Location: South East