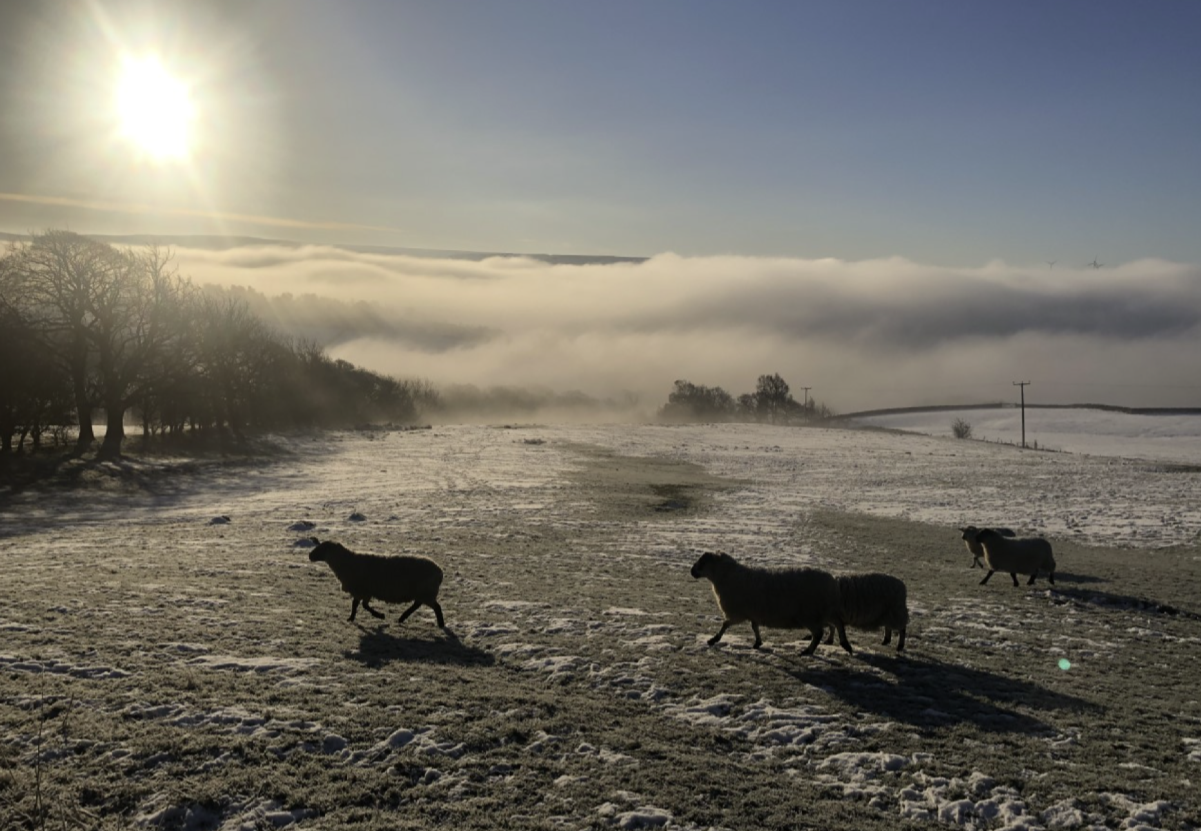 (Above pictured is Peter's hill farm in West Yorkshire)
This project led by Dr Peter Gittins and Dr Deema Refai of University of Leeds aims to assist UK farmers in their transition to net-zero agriculture by identifying the barriers and constraints they face, evaluating current progress in measuring carbon emissions, and helping farmers develop strategies for becoming net-zero through entrepreneurial skillsets and business activities. Scroll down to find out how to get involved.
Phase One: Farmer Interviews & Carbon Mapping (February-June)
The project will conduct on-farm interviews with upland/hill farmers to discuss barriers in
becoming net-zero and views on current and proposed new environmental schemes. The
project will also interview stakeholders such as agricultural organizations, local councils, and
wildlife and conservation groups.
On-farm interviews with farmers (no longer than an hour):
Cumbria- W/C April 3rd ———— W/C May 22nd onwards till August
Yorkshire- W/C April 10th ——— W/C May 22nd onwards till August
Exmoor- W/C April 17th ———– W/C May 22nd onwards till August
They aim to produce:
A policy brief outlining farmer concerns around adapting to ELMs and becoming net zero
An academic journal article
A podcast/university seminar event- hybrid event you will be invited to
An article summarizing the key findings from the activities published in The Conversation.
Phase two:
They will be hosting a two-day workshop event at Leeds University Farm. Throughout the event, attendees will have the opportunity to hear from a diverse array of academic and industry speakers and participate in planned activities. The theme of the workshop is focused on developing the skillsets of farmers. Topics include:
Developing an Effective Farm Business Strategy
Exploring New Markets and Entrepreneurial Opportunities
Innovation and Technology: Tour of the National Pig Centre
Environmental Sustainability
Marketing Your Farm Business
Policy Session and Discussion: The Future of UK Agriculture – Adapting to ELMs
and Net-Zero
Why Take Part?
By taking part in this research project, you can gain valuable insights into how your farming
practices impact the environment. You can also contribute to academic research and
influence UK policy-making. Furthermore, you will be invited to attend workshops later in the year at the University Farm, where you can learn about topics such as adding value to your farm business, designing an effective business strategy, exploring new markets and
entrepreneurial opportunities, future-proofing your farm business, and sustainable farming
practices. These workshops will be led by academics and industry speakers, providing a
great opportunity for you to expand your knowledge and skills in these areas.
To register your interest, please email Dr Peter Gittins at

[email protected]

or call 07480135127.
Finally, if you know of any farmers who might want to get involved in this project who do not have internet access, then please pass on the above contact information and they will personally sign them up.
With thanks from the project team: