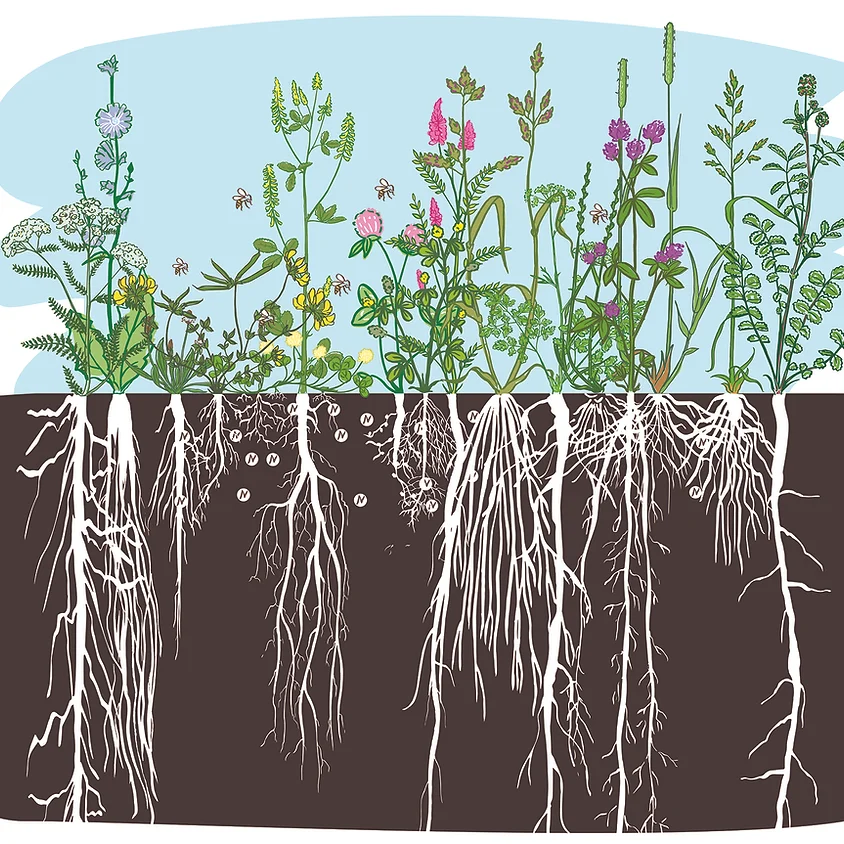 Summer/Autumn 2023
The FarmED Programme for 2023 includes a wide range of courses, workshops and events that inspire, educate and connect people to build sustainable farming and food systems that nourish people and regenerate the planet. All take place in their beautiful eco buildings at the heart of their demonstration farm in the Evenlode Valley. Delicious and nutritious refreshments are freshly prepared in the FarmED kitchen.
*Further events will be added to the programme throughout the year.
Herbal Ley Establishment & Management – June 13th
Join for a one day course on Herbal Leys Establishment and Management brought to you by the FarmED team and Cotswolds Seeds. A herbal ley is a complex seed mixture of grasses, legumes and herbs, which bring a range of benefits to forage, livestock health and soil fertility. Herbal leys can often include a mixture of up to 17 species, and can be incorporated into arable, livestock or horticultural operations with multiple benefits including building soil fertility and improving water resilience, to fostering better animal health and boosting biodiversity. Herbal leys are a traditional low-input method of farming that provides benefits to arable, livestock and horticultural operations alike.
Pollinators & Predators – July 3rd
How can we encourage pollinators and natural predators in order to reduce pests and increase production? Understand the role of these insects and learn ways to manage and maintain habitats for these unsung heroes.
Animals Into Arable Rotations – July 4th
Are you thinking of introducing livestock back into your arable rotation? Join FarmED as
they explore the options and find practical solutions.
Sainfoin & Lucerne Field Day – July 5th
Join the Cotswold Seeds team to learn about Sainfoin and Lucerne and how they
can benefit your farm

Wildflower Meadows & Margins – July 18th
As well as looking appealing, wildflowers also have huge biodiversity and environmental benefits. Find out how to select and establish the seed mixtures that best suit your land.
Sort Out Your Soil – August 2nd
We are joined by Anton Rosenfield from Garden Organic, and the Cotswold Seeds
team to show how green manures and cover crops can boost the fertility of your soil.
Self-Sufficient Leys Field Day – August 15th
Learn how to use forage legumes to reduce reliance on nitrogen fertiliser.
Equine Grassland Management – September 12th
Enhance you pasture management and increase species diversity to improve horse health and extend the grazing season.
Sign-up for their newsletter to keep up to date with what's on at FarmED
Follow them @RealFarmED
Cotswold Seeds kindly sponsors our Soil Farmer of the Year Competition.